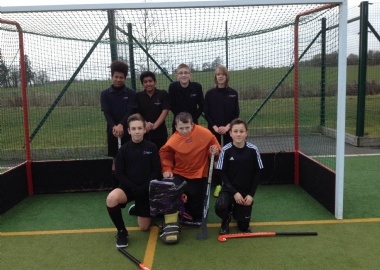 The year 8 hockey boys A team travelled to Kimbolton for a challenging fixture
The year 8 hockey boys A team travelled to Kimbolton yesterday on the back end of two very good victories. Without the luxury of any substitutes, this had the makings of a very challenging match. It was an extremely well-matched game with a lot of end to end play. The work rate of the boys was superb throughout the majority of the game, but tiredness certainly took its toll in the final 6/7 minutes.
TDA held Kimbolton to 0-0 throughout an exciting first half where both teams had scoring opportunities. Hayden Paul and Zain Shah were excellent in defence and Jake Chivers made some crucial clearances to keep a clean sheet until half time. Joe O'Callaghan was picking up loose balls in midfield and causing the opposition problems with his attacking runs up the right wing.
Kimbolton managed to find some space early in the second half and took the lead. TDA responded well and again had their own opportunities to equalise with both Janas Cybizov and Joe O'Callaghan going close. Kimbolton increased the tempo of their play and overloaded the attack which resulted in a very well taken second goal. Before TDA had time to re-group, Kimbolton came at them again and scored a very good third goal from open play. To prevent an onslaught of goals, TDA had to re-focus and dig deep. The boys responded well and almost got back on track with a goal, but the ball narrowly missed the far post.
Despite the 3-0 final scoreline the team played well and showed good spirit during a difficult phase of the game.