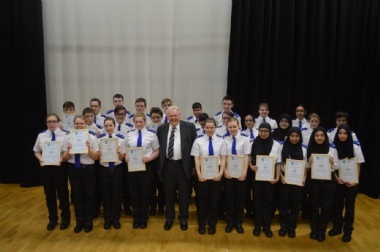 Peterborough Unit, Volunteer Police Cadets First Passing out Parade
To celebrate the end of their initial training, the first Cambridgeshire Volunteer Police Cadets officially took their oath on Wednesday 21st January as part of a passing out ceremony at Thomas Deacon Academy in Peterborough, Cambridgeshire's Police and Crime Commissioner has confirmed.
CEO and Principal of Thomas Deacon Academy, Julie Taylor, welcomed guests, cadet friends and family. Commenting on the achievement of the Volunteer Police Cadets at their passing out ceremony, Julie Taylor said: "It has been a great pleasure to host the passing out ceremony for our Volunteer Police Cadets at Thomas Deacon Academy today. Having police cadets compliments' our existing, successful Combined Cadet Force scheme and provides our students with further opportunities for development and learning. We are proud that Sir Graham chose us to pilot this highly successful scheme."
The 28 Volunteer Police Cadets took their oath in front of distinguished guests including Mayor and Mayoress of Peterborough, Mayor and Mayoress of Whittlesey, friends and family. Cambridgeshire's first Volunteer Police Cadet unit was established in partnership with the Thomas Deacon Academy, which already has close links with the police through the Safer Schools Partnership.
The Volunteer Police Cadet scheme supports the Commissioner's pledge to "support work with young people to divert them away from a life of crime" and his commitment to volunteering. Such has been the success of the 1st Volunteer Police Cadet unit, which now features a long waiting list, Sir Graham Bright has announced that further Volunteer Cadet units will be rolled out across Cambridgeshire.
Sir Graham Bright said "This first group are the pioneers of the Volunteer Police Cadet programme in Peterborough and Cambridgeshire. I would like to congratulate each of them on their commitment, enthusiasm and determination in successfully completing the training. I would also like to acknowledge the time, effort and dedication shown by all the volunteer leaders to the training programme. Following the success of this pilot scheme other Volunteer Police Cadet units will follow in Soham, Wisbech and Cambridge City".
Accompanying Sir Graham Bright at the ceremony was Chief Superintendent Dan Vajzovic, Area Commander – Cambridgeshire Constabulary who handed each cadet their certificate of achievement. Commenting at the ceremony, Dan Vajzovic said "I welcome all cadets in becoming part of the Police family and congratulate each one on their achievement. I look forward to seeing all the Volunteer Police Cadets supporting the Constabulary in engaging with and creating links with local communities in and around Peterborough."
The Peterborough Unit is part of the national framework for police cadet programmes across the country with cadets volunteering at least three hours of their time every month to support their local communities and police services.